Top-Tier
Accessible Wine Tours
Cheers! Okanagan Tours and Transportation is privileged to offer 9 top-tier accessible wine tours in Kelowna, West Kelowna, Lake Country, Penticton, Osoyoos, Naramata and the Similkameen, plus the popular High Spirits Tour where guests enjoy Beer, Cider, Spirits & Wine.
Come see for yourself why we're famous for exceptionally fun, informative, memorable once-in-a-lifetime experiences led by personally engaging, knowledgeable, service aficionados who share colourful local history and interesting information about wine and the wine industry.
Your enthusiasm is our obsession. We focus on the ultimate, unpretentious, down-to-earth, "didn't know they existed", hidden-gem, farmgate wineries everyone raves about.
On our expertly tailored Accessible wine tours you'll take pleasure in being personally introduced to amazing people, enjoy authentic encounters, extra personal touches and carefully chosen little surprises. Intermingled with tastings at little-known first-rate family-owned farmgate wineries , you'll delight in a unique, entertaining and very memorable first-hand learning event as we view and understand wine-making equipment, access vineyards, enjoy a fabulous al fresco picnic lunch of charcuterie (cured meats), artisanal cheeses, delicious spreads and of course – a glass of award-winning wine!
To view our collection of wine and spirits tours click here.
"Fun AND Wheelchair Friendly!"
"I use a wheelchair, and it's tough to find a company that can take me and my friends on an accessible wine tour, but Cheers' coaches have lifts! I've gone on several tours with them, and had a blast every time. They took us to a bunch of accessible wineries, and we tasted a lot of great wine! Lou and Reign were excellent guides, sharing lots of fun facts and tasting tips, and they made sure everything went smoothly. I'm looking forward to my next trip!"
Crystal S. Kelowna, BC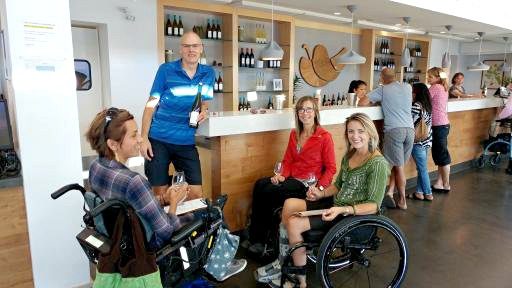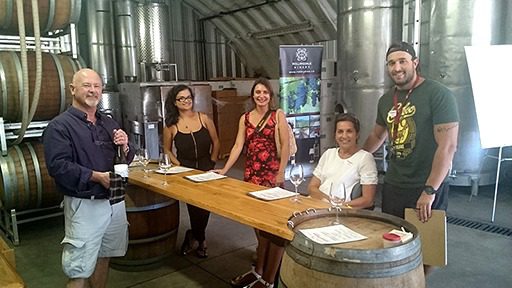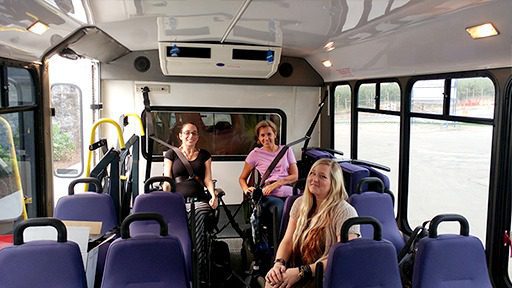 Accessible Transportation
It is important to note that our Wheelchair Accessible Transportation services consists of providing a qualified driver, transportation and assistance on and off the bus. We do not have the capacity to provide personal care or assistance while on tours. Please ensure that each individual who requires personal assistance throughout the tour is accompanied by a qualified care aid or personal support person.
Our 16 and 20 passenger buses are licensed and insured to provide accessible charter transportation services within the Province of British Columbia. The comfortable air conditioned buses are equipped with a wheelchair lift and 2 sets of tie downs. The buses are inspected and maintained regularly in accordance with BC Motor Carrier regulations. Seating on the buses can be configured to accommodate varying passenger loads (up to 22) depending on the number of passengers in wheelchairs.
Call today
250-717-8452
 or if you prefer, 
email
 and provide pertinent details. We will reply in a timely manner.
Cheers! delivers peace-of-mind accessible transportation solutions.
We get everyone where they need to be, when they need to be there.