Charters/Bus Rentals
Chauffeured Coaches - Vans - SUVs
"Amazing Service!"
"We recently used Cheers for event transportation. So accommodating, friendly and clean! I was able to book everything and communicate via text with them. Such a great group of people that work for Cheers! Highly recommended."
Janine Klatt, Executive Assistant at Suncor Energy
Positively caring, authentic, (and a little quirky :), Cheers Okanagan Tours delivers safe, clean, comfortable, reliable, and seamless charter transportation solutions. Therefore you enjoy feeling safe, relaxed, confident, valued, and treated like royalty.
Cheers is honoured to deliver: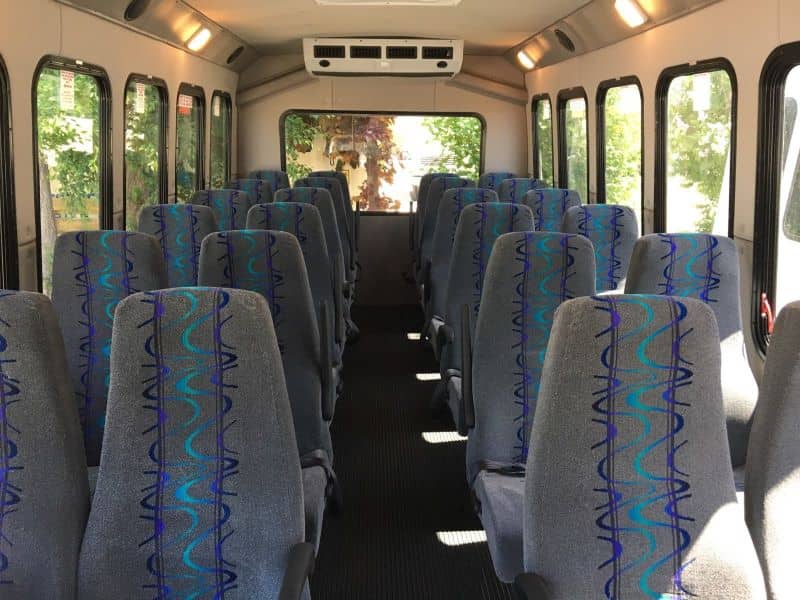 56 passenger Highway Coaches available upon request. Please contact the office at [email protected] to request a quote.
Premium Passenger Transportation Service
Safe, Clean, Reliable, Door-to-Door service between Kelowna and Vancouver
From $1,705.00, fuel, gratuity, and tax included. 
For all other trip destinations or origins please contact our sales team by email: [email protected] or by phone: 250-717-8452 to request a quote. 
Cheers Okanagan Tours is licensed to provide intercity
and interprovincial transportation services.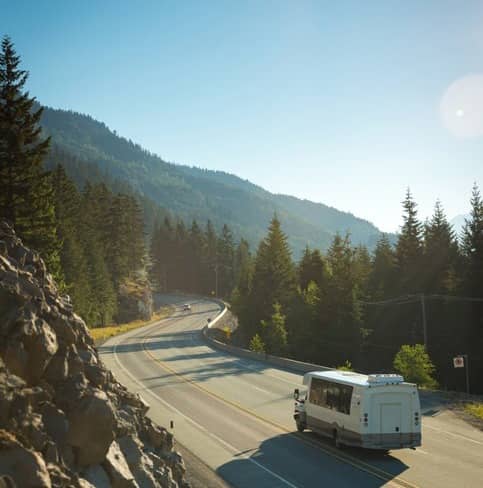 "They Execute Everything Perfectly!"
"This year was the second year we hired Cheers to do all of our Airport, Golf and Dinner transportation, plus our Wine Tours with our 56 staff and their partners. They chauffeured us around for 6 days with multiple stops and timelines that we were changing on the fly. Not only did they execute everything perfectly, but they also added so much entertainment to our trip."
Eric O'Sullivan, General Manager, Sherwood Park Chevrolet & Sherwood Buick GMC
*In Kelowna, calculate the time from our Central Kelowna Depot: 2491 Hwy 97 N to your accommodations/pickup. Capri/Kel Inn/Accent 9 min, Delta Grand/DT 12 min, EL/Manteo/Playa 15 min, Lake Country 20 min, The Cove 30min, La Casa 40 min.
*In Vernon, calculate the time from our Central Vernon Depot: 4301 25 Avenue. to your accommodations/pickup. Prestige Vernon Lodge 6 min, Strand Lakeside Resort 15 min, Lake Country 20 min, SilverStar 25 min, La Casa 40 min.
***In Penticton, hours are calculated from our Penticton Depot: 21 Lakeshore Dr. W to your accommodations/pickup.
*In Osoyoos/Oliver, calculate the travel time between our Central Osoyoos Depot: 9912 BC-3 to your accommodations or pickup/drop off. Cheers strongly recommends adding 5 extra minutes to all anticipated travel times to allow for any unforeseen delays.
Wheelchair Accessible Transportation
It is important to note that our Wheelchair Accessible Transportation services consist of providing a qualified driver, transportation and assistance on and off the Coach. We do not have the capacity to provide personal care or assistance while on tours. Please ensure that each individual who requires personal assistance throughout the tour is accompanied by a qualified care aid or personal support person.
Our 20 passenger Coach is licensed and insured to provide accessible charter transportation services within the Province of British Columbia. The comfortable air-conditioned Coach is equipped with a wheelchair lift and 2 sets of tie-downs. The Coach is inspected and maintained regularly in accordance with BC Motor Carrier regulations. Seating on the buses can be configured to accommodate varying passenger loads (up to 21) depending on the number of passengers in wheelchairs.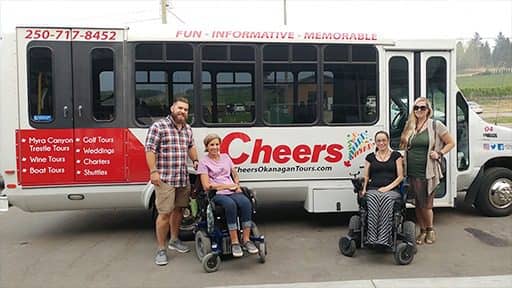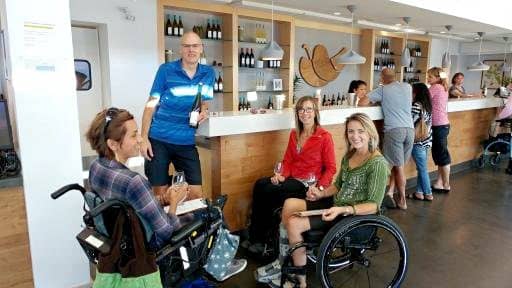 "Fun AND Wheelchair Friendly!"
"I use a wheelchair, and it's tough to find a company that can take me and my friends on a wine tour, but Cheers' coaches have lifts! I've gone on several tours with them, and had a blast every time. They took us to a bunch of accessible wineries, and we tasted a lot of great wine! Lou and Reign were excellent guides, sharing lots of fun facts and tasting tips, and they made sure everything went smoothly. I'm looking forward to my next trip!"