Apex Ski & Airport Shuttle
Apex Mountain Ski & Airport Shuttle Service follows Certified COVID-19 Protocols!
Safe, Clean, and Sanitized!

All-Wheel-Drive Vehicles!

 Door-To-Door Service!
Text Confirmations!

 Email Confirmations!

No Unwelcome Surprises!

 No Added Gratuity!
No charge for infants up to 2!

 Commercially Licenced!

 Commercially Insured!

 Approved Tires and Chains!
Cheers Delivers Extraordinary Transportation Experiences
Private Apex Ski & Airport Shuttle Service between Apex Mountain Resort and the Kelowna International Airport (YLW),
PLUS! Airport and Intermountain shuttles to: Baldy Mountain Resort, Big White Ski Resort, Revelstoke Mountain Resort, SilverStar Mountain Resort, Sun Peaks Resort
AND MORE! – Enjoy a remarkable Winter Wine Tour from Kelowna, Vernon, Big White or SilverStar!
YLW to/from Apex
 
Guests
One-Way Fare
Return Fare
Up to 5
$595
$1,095
Up to 10
$695
$1,295
BOOK NOW
Up to 24
$795
$1,495
Trailer Add-on
$195
$390
Add at Checkout
Upfront All-Inclusive Pricing. No Unwelcome Surprises. No Hidden Fees.
All prices are in Canadian dollars (CAD) and include the fare, fuel, tax and driver's gratuity.
AMAZING SERVICE!
"We recently used Cheers for event transportation. So accommodating, friendly and clean! I was able to book everything and communicate via text with them. Such a great group of people that work for Cheers! Highly recommend."
Janine Klatt, Executive Assistant at Suncor Energy
Apex Ski & Airport Shuttle Facts: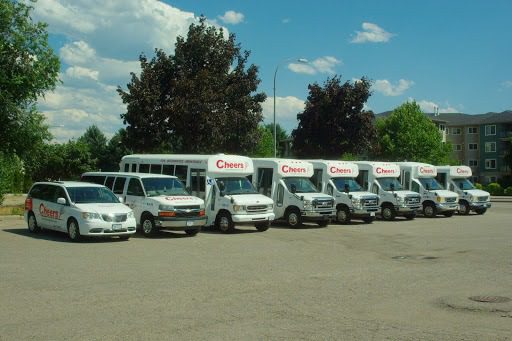 Ideal weather conditions conspire to create incredible, light champagne powder. Apex receives the perfect mix of large amounts of precipitation, combined with low humidity and the dry champagne powder snow we're famous for, is born! And because Apex Mountain Resort is the only mountain in the Okanagan that faces northeast, those beautiful powder snow crystals are less affected by the sun and the famous light, dry powder snow can survive for days after a snowfall.
With an average of 600 cm of this special snow falling each season, Apex provides the moderate winter conditions and dry power snow craved by skiers and snowboarders alike.