Fun, Knowledgeable Guides
Delicious Lunch for Any Diet
Down-to-Earth Tasting Education
Famous Wineries to Hidden Gems
Reputable Transportation.
Friendly, Knowledgeable Drivers

On-Time
Caring
Accessible
Family Friendly
Inclusive
Meticulous Planning
Flexible
Innovative
Small to Large Groups
Great Communication 

Our customers have ranked us the #1 local tour company in Kelowna
Why buy anywhere else?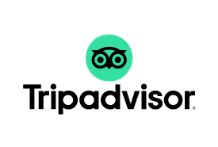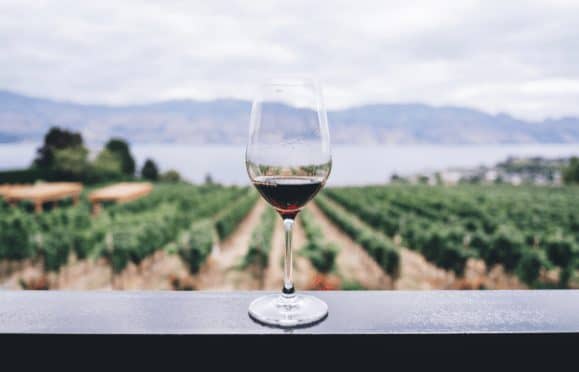 Self-Guided Wine Tours
A touring option designed for those who prefer to direct their own journey. Guests are responsible for selecting the wineries, making reservations and creating their itinerary. We provide a free itinerary planner (which helps the organizer look like a rock star!) and we handle all the driving and navigation so everyone can fully enjoy the wine tasting adventure, scenery, and comradery worry-free. The Self-Guided Wine Tour requires more effort up front, but it can be very rewarding – and less costly.
"Wow…What a Day!"
"Cara and I had such an amazing day on our first-ever Kelowna-based wheelchair-accessible wine tour! Our guide, Lou, was very informative and went above and beyond to make sure we both had an amazing time. We're already thinking about the next time we can join Cheers! for another tour!"
Andrea W.
"Cheers! was Phenomenal"
"We booked Cheers! for our wedding, and couldn't be happier with the experience from end to end. All of our guests complimented us on how fun and efficient the drivers and shuttles were! From quotes and payments to customer service and guest experience,
Cheers! was phenomenal."
Christine A.
"Memorable Day"
"Our tour guide Bruce was very knowledgeable and we loved hearing the history of the region/wineries. Booking was easy and the team was very responsive to any questions we had. Would recommend to anyone and would book again!"
Jessica D.
Airport Shuttle
Cheers! Okanagan Tours delivers reputable, safe, clean, and on-time airport shuttles to and from the Kelowna International Airport (YLW).
Knowledgeable, friendly, and courteous drivers.
Shuttles operate 24/7 based on individual bookings and not a set schedule. Book early for the best results.
Book online 24/7. If you require assistance please contact our reservations team at 250-717-8452 or [email protected].
They will be happy to assist you.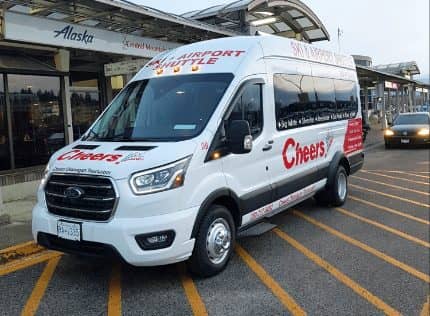 Vernon Airport Shuttle
Door-to-door pick-up and drop-off, no minimum booking requirements, public service.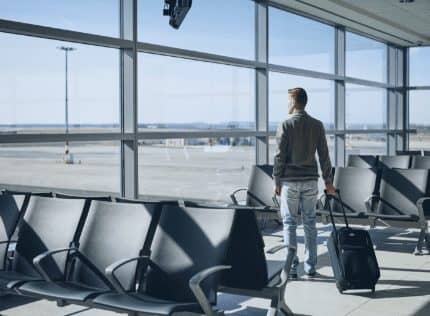 Kelowna Airport Shuttle
Private service for groups, door-to-door pick-up and drop-off.
Wedding Transportation
Join over 400 other brides and grooms who trust
Cheers! Okanagan Tours with their wedding transportation each year.
At Cheers! we design and deliver safe, clean, on-time, and seamless transportation solutions.
Focus on enjoying yourself. It is your day, after all.
Fill out our Wedding Transportation Checklist and receive a quote.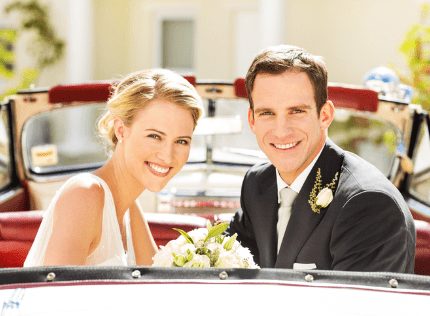 Safe-Ride-There and
Safe-Ride-Home Shuttles
Ensuring everyone stays together, arrives safely, on time, and gets safely home to the ones they love.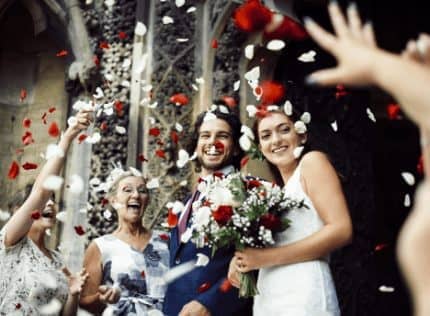 Bridal Party and Picture Transportation
Zero stress wedding party transport to and from receptions and pictures. Featuring vehicles tall enough to stand in so your dress won't get crumpled.
Ski Shuttle
Cheers! safely delivers ski and snowboard enthusiasts to over 50 Heli-Ski, Cat-Ski, Ski Resorts, and airports throughout southern British Columbia, PLUS Intermountain Shuttles between Big White, SilverStar, Revelstoke, Sun Peaks, and more. If there's a road – we go there!
Reputable, on-time, safe, clean vehicles and friendly knowledgeable drivers. Grocery and liquor stops are available. Online, preorders are recommended.
Relax, take in the beautiful BC scenery on your private shuttle, or save a few dollars and make new friends with our public shuttle option where available.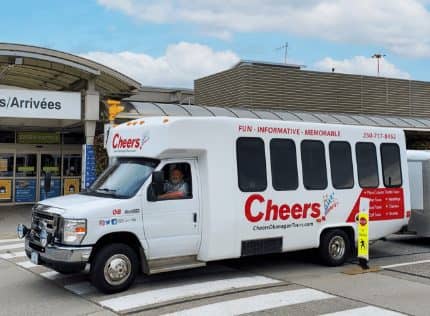 Ski and Airport Shuttle
Plan your ski holiday today and trust Cheers! to deliver safe, clean, and reliable ski and airport shuttles.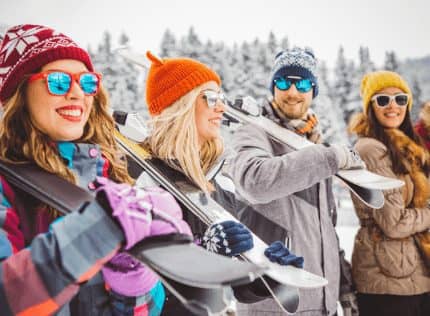 Intermountain, Cat and
Heli-Skiing Shuttles
Trust Cheers! to safely transfer you between mountains or to remote winter destinations.
Bus Rental (Charter)
Positively caring and authentic, Cheers' friendly, knowledgeable drivers deliver safe, clean, comfortable, reliable, on-time, and seamless charter transportation solutions. Therefore you enjoy feeling safe, relaxed, confident, valued, and treated like royalty.
Cheers! is honored to deliver:
Conferences and Trade Show Shuttles
Sports Team Transportation
Private Transportation to Dinner, Bars, Clubs, Concerts & Events
Office Team Building and Staff Parties
Christmas Party Tours and Transportation
DIY Tours
Private Transfers
Private Pub & Club Crawl Transportation
And

more!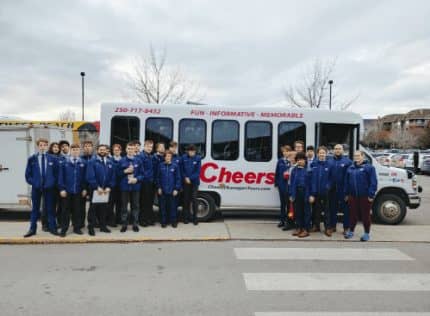 Sports Team Transportation
Trust Cheers! to safely transfer your team to tournaments, hotels, and outings.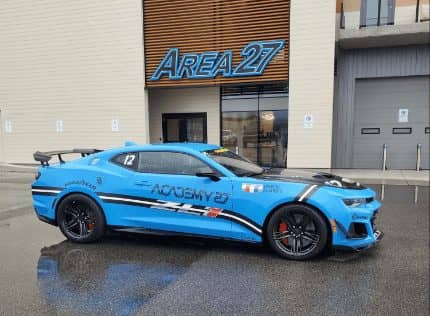 Team Building & Staff Parties
Reward your staff, or clients, with an adventure to the Area 27 Motorsports Park. Door-to-door transportation is available for all your team-building events.
Golf Transportation
Averaging over 2,000 hours of sunshine every year, the Okanagan offers the longest, driest season in Canada.
With more than two dozen exceptional courses that range from easy-going to ego-shattering, there is something for every skill level.
Rely on Cheers! Okanagan Tours' Golf Transportation to get you there and then safely home.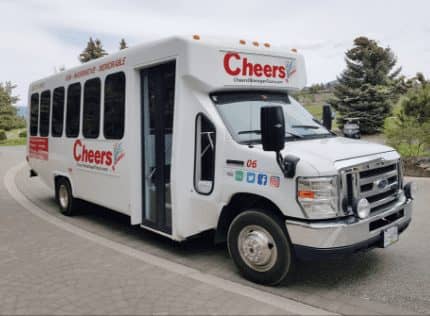 South Okanagan Golf Transportation
Transportation from local area accommodation, including Airbnb, to all courses.
"Fantastic Experience!"
"Very responsive, inspired trust and confidence. They got 4 adults, and 3 children to Vancouver Airport from Kelowna due to unexpected, last-minute flight cancellation, on a fabulous bus with lots of legroom and phone chargers!
Allen was totally committed to getting us to the Vancouver airport on time to make our connecting flight. He made sure we were comfortable and catered to our needs.
Allen turned the whole experience into a positive adventure for all of us. We will definitely support him and his company next time we're in Kelowna."
Meena B.
"We Had an Amazing Experience with Cheers Okanagan Tours!"
"We used Cheers to shuttle us around on a golf outing to and from multiple courses. Cheers was easy to communicate with and always on time.
We also requested multiple changes that they were always happy to accommodate. They even gave us an amazing rate on a trip that we requested to add the day off.
Thanks again Cheers for the amazing experience! Also a special thanks to Lou for taking care of us, she was great."
Jordan H.
"Friendly and Affordable"
"Booking by phone was easy and friendly. The driver was on time at the airport, and the shuttle was spacious, comfortable and clean.
We had the entire minibus to ourselves, and the trip included stops at a liquor store and grocery store for provisions.
Best of all, the service was cheaper than the one recommended by SilverStar!"
Rob R.