Let us help you get everyone home safely to the ones they love.
Positively caring, authentic, (and a little quirky :), Cheers Okanagan Tours delivers safe, clean, comfortable, reliable, and seamless transportation solutions. Therefore you enjoy feeling safe, relaxed, confident, valued, and treated like royalty.
"Michael was absolutely amazing!"
"We were recently in Kelowna for a wedding and Michael was our chauffeur from our Airbnbs to the ceremony, reception, and back at the end of the night. We were the only ones with a child (1.5 years old) and on the way to the ceremony, we realized we had forgotten our stroller. After dropping the guests off at the reception venue, he drove just me and my toddler back to our Airbnb so we could get the stroller. He helped carry it onto the bus and made sure we had everything we needed. At the end of the night, he helped me load and unload the stroller and even waited until he saw that we were in safely before he drove away. I would definitely recommend this service and will use it again! Michael was entertaining, kind, and an all-around great guy. He definitely made our trip easier!"
Did you know that the wedding couple, the corporation/business, the host(s) along with licensees, managers, venue owners and servers are all legally responsible to take reasonable steps to prevent guests from driving while under the influence of alcohol or drugs? There is a responsibility to ensure that all attending guests, at a wedding, party or event, arrive safely to a place to 'sober up.'
It's called Duty of Care. It's part of BC's Liquor Control and Licensing Act and Occupiers Liability Act.
Cheers' Safe-Ride-Home® service provides peace of mind through convenience, ease, effectiveness, and safety while satisfying the Duty of Care responsibility. Let us help you get everyone home safely to the ones they love.
*In Kelowna, calculate the time from our Central Kelowna Depot: 2491 Hwy 97 N to your accommodations/pickup. Capri/Kel Inn/Accent 9 min, Delta Grand/DT 12 min, EL/Manteo/Playa 15 min, Lake Country 20 min, The Cove 30min, La Casa 40 min.
*In Vernon, calculate the time from our Central Vernon Depot: 4801 27 Street. to your accommodations/pickup. Prestige Vernon Lodge 6 min, Strand Lakeside Resort 15 min, Lake Country 20 min, SilverStar 25 min, La Casa 40 min.
***In Penticton, hours are calculated from our Penticton Depot: 21 Lakeshore Dr. W to your accommodations/pickup.
*In Osoyoos/Oliver, calculate the travel time between our Central Osoyoos Depot: 9912 BC-3 to your accommodations or pickup/drop off. Cheers strongly recommends adding 5 extra minutes to all anticipated travel times to allow for any unforeseen delays.
"Safe Ride Home"
"After having dinner out with friends we were unable to get a taxi despite waiting for over an hour! Decided to walk home which would have been a long one in heels (6kms) AND likely a tad unsafe. (1:00 am) However, after witnessing us trying yet again to hail a passing cab, Allen who was driving some young kids home from a music festival, opened the door to his coach and kindly offered us a ride! What a nice guy!! We were able to get driven right to our door for less than a taxi would have been and in the comfort of his clean air-conditioned coach! I took his card and we will be sure to use his services when we can for a wine tour/party or event, or as a shuttle! Thank you, Allen, for taking the time to help us out! You have new customers for sure!"
Wheelchair Accessible Transportation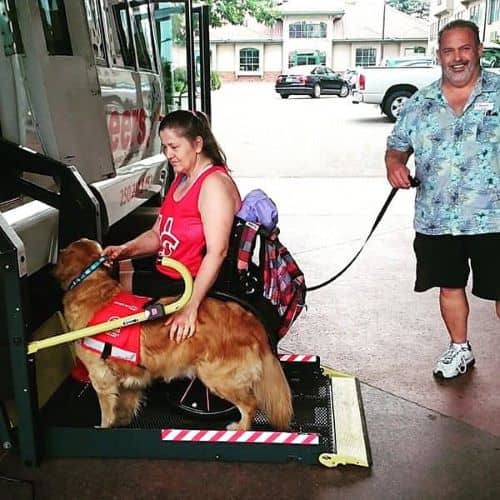 It is important to note that our Wheelchair Accessible Transportation services consist of providing a qualified driver, transportation and assistance on and off the Coach. We do not have the capacity to provide personal care or assistance while on tours. Please ensure that each individual who requires personal assistance throughout the tour is accompanied by a qualified care aid or personal support person.
Our 20 passenger Coach is licensed and insured to provide accessible charter transportation services within the Province of British Columbia. The comfortable air-conditioned Coach is equipped with a wheelchair lift and 2 sets of tie-downs. The Coach is inspected and maintained regularly in accordance with BC Motor Carrier regulations. Seating on the buses can be configured to accommodate varying passenger loads (up to 21) depending on the number of passengers in wheelchairs.
Liquor Liability
Anyone involved in the serving of alcohol could be held liable for damages or injuries that occurred when alcohol is deemed to have been a contributing factor in the incident.​
The party hosts and organizations may be held responsible for the actions of others if people are served past the point of intoxication while attending a special event. Speak with your insurance representative before you host an event where alcohol will be served to confirm that your organization is properly covered for liability exposure.
Legal Liability
Organizations are responsible for patrons when alcohol is served. Forms of liquor liability include:
Liability as a server. Servers are responsible if they serve alcoholic beverages to people past the point of intoxication.

Liability as an occupier. People, companies or any other organization that own, have possession of or have responsibility for premises are responsible, in certain circumstances, for protecting persons on their premises from preventable harm.

Liability as an employer. An employer may in certain circumstances be responsible for the care of employees who over consumed alcohol at an event, such as a staff party.

Liability as a sponsor of potentially dangerous activities. Risks from such activities increase when alcohol is served.

Use of excessive force. Security personnel cannot use unnecessary or excessive force to manage intoxicated patrons.​
Source: Compiled with Canadian Risk Intervention Inc.