Naramata Wine Tour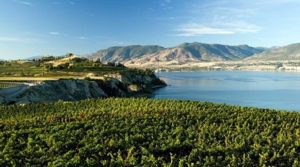 Naramata Wine Tour - Our Naramata Bench Wine Tour is a guest favorite. Enjoy a complimentary gourmet picnic lunch while overlooking vineyards and Okanagan Lake. Enhance your picnic with a glass of wine from the winery we're at for lunch.
Searching Availability...
***Don't see a time that works for you? Please call or email to discuss custom options
Naramata Wineries are located along a meandering country road with spectacular views of vineyards, mountains, and Okanagan Lake.
You reach the first of the wineries while still in the city limits of Penticton. The last one is fourteen lazy kilometres don the road, just past the heart of Naramata Township.
Drawing on the rich terroir of the Naramata Bench, each winery is dedicated to bringing out the superb local qualities in their wine-making. Each winery uniquely provides a personal, relaxed and authentic experience for visitors.
With a wide range of spectacular wines and distinctive winemakers there are exciting discoveries for wine lovers to explore at every turn.
Naramata Bench Wineries have always had an appetite to present their wines and region in fun and accessible ways, making Naramata Bench a must for exceptional wine tours.