The Ultimate Okanagan daytrip featuring each of Kelowna's top tour experiences!
The Joie de Vivre Tour (noun: exuberant enjoyment of life) features each of Kelowna's top tour experiences! Myra Canyon Trestles, A Matchless Picnic, East Kelowna Wineries & Farms, Lakefront Dinner, and Sunset Cruise.
Tour includes pick-up & drop-off, knowledgeable and friendly guide, winery reservations, tasting fees, matchless (individual) picnic lunch of cured meats and artisanal cheeses (Gluten-Free, Lactose-Free, Vegan and Vegetarian options available at no additional cost), dinner, guide gratuities and taxes. Alcoholic beverages extra.
8:00 am – 9:00 pm. 13 hours.
Minimum 2 guests.
Searching Availability...
Secret Sensations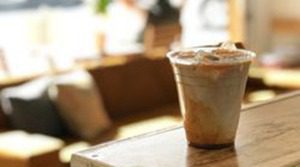 The Ultimate Okanagan Tour typically begins with a trip to a local artisan bakery to purchase baked goods and your favourite morning beverage. Next, sit back and relax as we climb 3000 feet (915 m) above Kelowna meandering through farms, orchards, and vineyards dating back to c1859. Watch for wildlife like quail, grouse, coyotes, deer, and moose.
Myra Canyon Trestles Expedition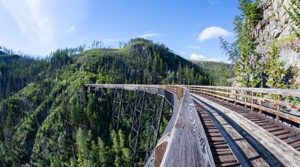 The Ultimate Okanagan Tour continues as you're whisked away to experience breathtaking views of Myra Canyon and Okanagan Lake while walking along the gentle grade of the historic Kettle Valley Railroad. Featuring trestles up to 180 feet (55m) tall and 722 feet (220m) long. An absolute engineering marvel to be experienced first-hand! A comfortable pace allows you to enjoy up to 11 trestles and two tunnels on a two-hour, round-trip trek back in time.
Picnic, East Kelowna Wineries and Local Farms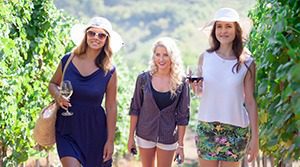 After feasting your eyes on the Myra Canyon, feast your taste buds at an exceptional collection of intriguing and unconventional wineries. Enjoy a glass of wine with your delicious picnic lunch while overlooking a vineyard, our valley, and Okanagan Lake. We may also visit charming local farms. Depending on the day, stops may include a Heritage or Honey Farm, Fruit Orchard, Lavender & Herb Farm, Fruit Stand and/or Father Pandosy Mission c1859. Venue options are pending availability and season.
Eat, Drink, and be Lakefront – at the members-only Kelowna Yacht Club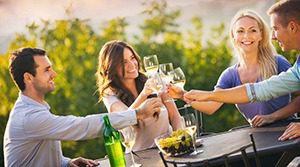 As our Captain's special guest, relax and enjoy a lakefront, members-only, upscale-casual dining experience featuring delicious fare on one of the largest patios in the Okanagan. Savour stunning panoramic views while overlooking Canada's largest fresh-water marina, Okanagan Lake and the surrounding mountains.
Captain's Club Sunset Cruise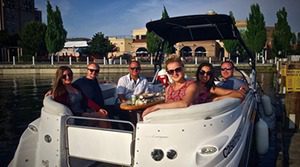 To put the finishing touch on your exceptional day in our valley, you will admire the fabulous Okanagan Lake on a sunset cruise aboard a luxurious Harris® pontoon boat. Your friendly Captain will showcase local history while exploring the Kelowna waterfront and exclusive views of dozens of celebrity lakeshore residences.
"The highspot of our trip to Kelowna"
"A brilliant tour of Myra Canyon then visited several wineries and had a lovely lunch in the sunshine.
Thanks to Lou, our knowledgeable and resourceful guide, we had a fantastic day which I highly recommend!"