High Spirits Experience from Silver Star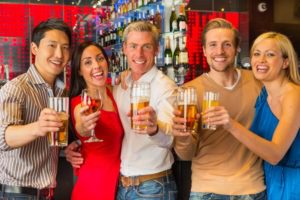 Vernon and Lake Country High Spirits Experience from Silver Star – Every Saturday. High Spirits is the name, Revelry is the game! You and your taste buds will be jumping on this flavourful guided tour where you'll enjoy: hand crafted premium ciders made from 100% local fruit, award-winning wines, exceptional and diverse craft beers, and a traditional and sustainable farm-to-glass craft distillery.
Searching Availability...
Not only wineries.
One can enjoy the local flavours produced with a passion for hand-crafting. In their sit-down tasting rooms, try tank-to-tap craft beer and learn how a small batch microbrewery creates their selection of rich beer using only purified water, hops, barley malt, and yeast.
Local cideries are deeply rooted in the local agricultural history. Discover this crisp local beverage and learn about the process of taking the juices of local fruit and transforming it through fermentation into tasty cider. Experience first-hand the art of craft distilling and enjoy the opportunity to try a unique selection of flavourful and award-winning spirits made from local fruit.
Experience the Exceptional
At B.C's original Craft Distillery
Local farm-to-flask distillery offering a selection of more than 25 internationally awarded spirits ranging from BC's first Single Malt Whisky to Gins, Vodkas, Liqueurs, Fruit Brandies and even Aquavit and Absinthe.
We are 3rd-Generation Apple Growers
Trying something new.  Or depending how you look at it – Something old.
Real Cider – made from apples, has been around for centuries – yet in North America the word cider has been so obscured that most no longer know what to expect.
We invite you to try real cider, made from apples. Not watered down, not artificially flavoured. Not sugary sweet or cloying.
Our ciders are natural, refreshing, and a true expression of the apples they are made from. They are unpretentious, yet have enough character to be served alongside the finest meal. Did we mention we grow all the apples we use in our ciders – nearly 30 varieties – right on the same orchard the cidery is located?
We hope you will come visit our tasting room and experience real cider.
Cheers,
Dave & Missy