This weeks spotlight is on one of our favorite West Kelowna Wineries.
Off The Grid Organic Winery.
Between the two houses of the Paynter brothers, Off The Grid Organic Winery, is the natural evolution of this family's 100 years and five generations of farming in West Kelowna. When you visit Off The Grid, you'll be greeted by friendly winery goats. You'll enjoy unobstructed views of Okanagan Lake and experience your wine tasting in a fully sustainable, off the grid, building.
Off The Grid Organic Winery History
With the outbreak of World War 1, Edwin returned to England for the duration of the war. After the war ended he and his wife Margaret returned in 1919 and started to farm the land. Edwin had a total of 7 children; 6 of them split the West Kelowna property and one daughter lived in East Kelowna.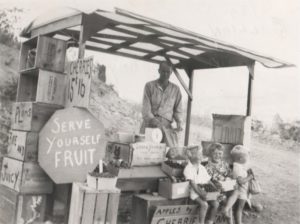 The property where the winery stands, down to Paynters Fruit Market and the Corner Fruit Stall on Elliott were all a part of Henry Sr's land that was passed down to him from his father, Edwin.
Henry was especially close to his older sister, Edwina, who never married and had no children. Henry, Sheila and Edwina ran cattle on the property where the winery is now into the late 40's. When Edwina passed away her land was left to her brothers Henry and John. John Sr. then passed his land onto his only son, John who still lives on Paynter Road. John originally owned the lot on which the winery was planted, but sold it later in life to Off the Grid owners Travis and his wife Sheri, as well Nigel and his wife Hayley.
Are you confused yet? If not, we're very impressed. Here's the Coles Notes version: Nigel and Travis Paynter are from a long line of farmers who have lived on and worked their land for over a hundred years and are lucky enough to be married to two very smart and ambitious women.
"Together, they can make great wine, and that's all that really matters."
Off The Grid Winery can, should and likely will be included on your West Kelowna Wine Tour.
CHEERS!
Copy and images based on and borrowed admiringly from www.offthegridorganicwinery.com.