FIRST DAY JITTERS
First Day Jitters – What's to Come?
Thursday September 13th, 2018
By Derrick Francis, Merritt BC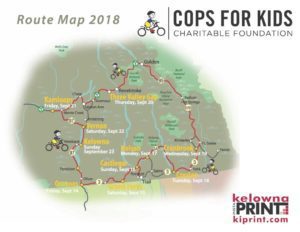 It is so great to finally be in Kelowna the night before the ride. All of the anticipation and "what ifs" can be laid to rest. Ride captain Julio put us at ease by introducing the team. I look around and see that we are all shapes and sizes but are in this for one Cause, the families. I am a first time participant and very new to road and group riding. I purchased my used road bike in March and since then I have ridden 2700 km of training rides. In Merritt that means training in the wind the majority of the days. Needless to say I am anxious as to whether I will be able to keep up with some of this accomplished group.
Team Meal at the Delta Grand…
It is so great to start the event with a wonderful team meal at the Delta Grand Okanagan. We also heard a bit about the families that we will meet along the way. I know that it is the families that will keep these 53 year old legs going through the hills and whatever weather we may encounter. As I look around at my team mates and volunteers I feel a lot of pride for this group that has come together to help these most deserving families. It is also wonderful to see the partners that have signed on with the group. Sandman Kelowna for giving us our first nights rest. The Delta for the dinner and send off breakfast. The service groups and hotels all along the route. Without their assistance this would be quite a different event.
I have been so impressed with the level of planning and communication that Courtney has done for this ride. It certainly has made us first timers and out of towners feel involved.
I am quite certain that tonight will be a restless sleep for me. I am also certain that it will not matter as the energy in the group will get me through the first days ride. I grew up in the Grand Forks area and cannot wait to ride through my old stomping grounds with a new group of friends.
Good night all.
To support the ride and this amazing cause with any amount, big or small, click HERE